Contracting Workflow under a single point responsibility
De Smet Engineers & Contractors (DSEC) is a general contracting company capable of undertaking projects from their early definition stage up to full turnkey with post commissioning assistance, under a Single point responsibility.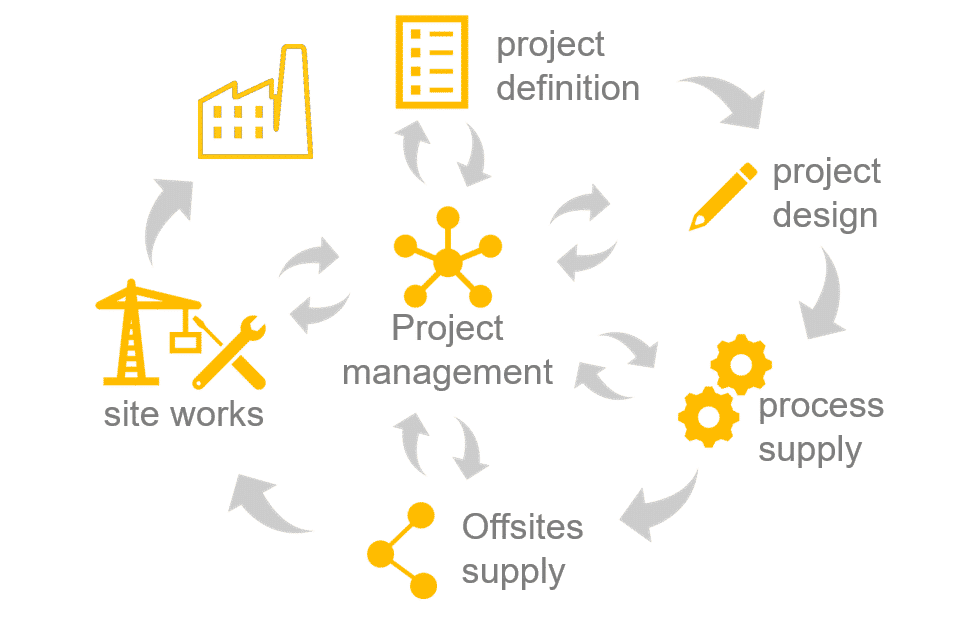 Main fields of contracting activities are projects involving in-house know-how such as Sugar plant and Edible Oil processing facilities as well as agro-industrial activities like Bioethanol, Biochemicals and Argo-Nutrients production involving similar unit operations and construction philosophy. DSEC's is also specialized in developing all utilities and auxiliary facilities related to the above plants.
Contracting operations generally cover the whole range of Engineering, Procurement and Construction tasks (EPC), some of them, however, possibly being undertaken directly by our customer or managed in partnership (partial EPC, EPCM or EPCM+®).
Project Definition

Close co-operation with the customer at all stages of the project definition and preliminary design is required before De Smet Engineers & Contractors can effectively start working on a project.

Such dialogue with the end-user or investors is essential in order to freeze the project concept and eliminate grey areas, thus avoiding overruns, extra expenditure and unforeseen delays.

Especially in critical areas such as local construction works, DSEC's experts will exercise full control on preliminary investigation and studies to ensure that the Full Responsibility Concept is guaranteed. Accurate budgets are often commissioned by DSEC's customer with a view of checking project feasibility study hypothesis.

Project Design

In addition to its Sugar Process Division, De Smet Engineers & Contractors has in-house engineering capabilities for handling the overall project design as well as all interfaces between processing units, auxiliaries and utilities.

DSEC design activities are also extended to architecture, civil engineering and steel structure definition with a view of preparing accurate tendering and execution documents.

Moreover, DSEC has the necessary skills to implement processes from Process Design Packages (PDP) supplied by others.

Process Supply

De Smet Engineers & Contractors project management and procurement capabilities allow the supply of comprehensive equipment packages, including all necessary auxiliary and utilities components.

Such packages are particularly attractive to overseas customers who wish to purchase imported machinery within the single point responsibility concept, avoiding therefore the devastating effect of potential loopholes between both the supply and the contractual responsibility of various sub-contractors.

Process Auxiliary Supplies

De Smet Engineers & Contractors has developed particular skills in defining and managing auxiliary packages to complement agro industrial processing plants.

Among others, DSEC has a wide experience in the supply of bulk material handling and storage, liquid storage and finished products packaging such as bagging, bottling and palletising.

Utilities Supply

De Smet Engineers & Contractors' Utilities Department has wide skills in the implementation of all industrial utilities services, ranging from steam production, water cooling, raw and effluent water treatment to complex electricity cogeneration and distribution set-up.

It has also the responsibility of co-ordinating the whole project energy supply and distribution strategy with a view of optimising its overall efficiency.

Site Works Execution

All project site works are performed under the supervision of De Smet Engineers & Contractors' specialists headed by the Site Manager who is in permanent contact with the project management staff in order to constantly monitor quality, and compliance with the budget and time schedule of all on-site sub-contracted work.

At construction completion, the Site Manager and the Commissioning Manager will organise start-up and commissioning procedures with the help of in-house start-up engineers and Vendor specialists.

Project Management

De Smet Engineers & Contractors' project management is the key to successful contracting operations.

DSEC's team of project managers, planning and cost controllers, purchasing engineers and forwarding specialists runs the overall project co-ordination with the help of dedicated procedures and software as per DSEC's ISO 9001 Certification.
DSEC is currently active in the fields of :