Capabilities
As engineering & general contractor, De Smet Engineers & Contractors (DSEC) provides the Agro-processing industry with audits and engineering studies as well as general contracting services from early definition stage to full turnkey construction, including commissioning assistance, under a Single point responsibility.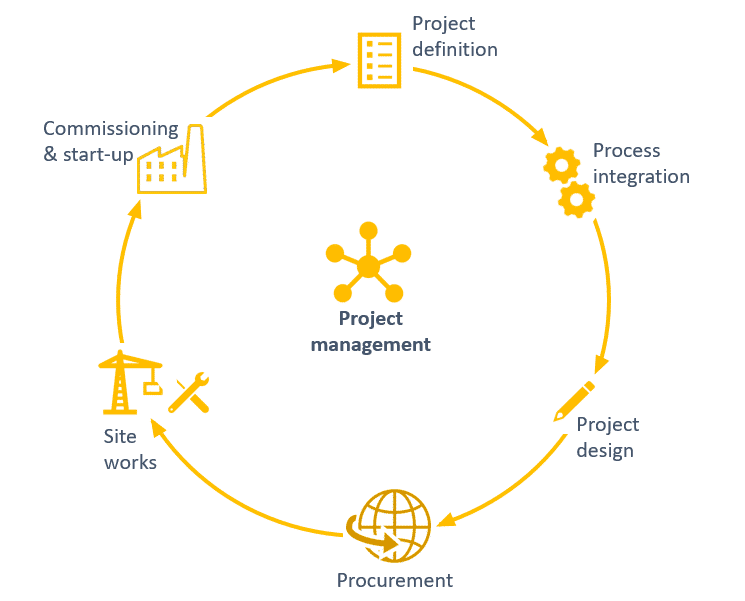 Project Management

De Smet Engineers & Contractors' project management is the key to support all operations described here below.

DSEC's team of project managers, planning and cost controllers runs the overall project coordination with the help of dedicated procedures and document management system as per DSEC's ISO 9001 Certification.

Project Definition

Close co-operation with the customer, at all stages of the project definition and preliminary design, is required before De Smet Engineers & Contractors can effectively start working on a project.

Such dialogue with the end-user or investors is essential in order to freeze the project concept and eliminate grey areas, thus avoiding overruns, extra expenditure and unforeseen delays.

Especially in critical areas such as construction works, DSEC's experts will exercise full control on the respect of specifications and studies to ensure that the Full Responsibility Concept is guaranteed.

Process integration

Majority of our projects are process-based, whatever the business line (Sugars & Ethanol, VegOils & Derivatives, Bio-based industries, Alt Proteins & Ingredients and Agro-Nutrients) coming from our customers know-how or technology suppliers. DSEC is accomplished at appropriating these process and technologies, through carefully negotiated and regulated agreements, and to translate them into the whole design and dimensioning of the plants he builds.

Thanks to our knowledge of agro-industrial unit operations, we have the capacity to integrate process and technologies, from Process Design Package (PDP) into the whole project design, through overall mass and energy balance, equipment's specification, design and 3D-modelling.

DSEC is also specialized in developing all utilities and auxiliary facilities related to the above plants.

Project Design

De Smet Engineers & Contractors has in-house engineering capabilities for handling the overall project design as well as all interfaces between processing units, auxiliaries and utilities.

DSEC design activities encloses mechanical & piping lay-out, 3D-modeling, as well as architecture, civil engineering & steel structure and E&I drawings with a view of preparing accurate tendering and execution documents.

Moreover, DSEC has the necessary skills in various design software's commonly used by technology providers, vendors and works subcontractors.

Procurement

De Smet Engineers & Contractors procurement capabilities allow the supply of comprehensive equipment packages, including definition and management of all necessary auxiliary and utilities components.

Such packages are particularly attractive to overseas customers who wish to purchase imported machinery within the single point responsibility concept, avoiding therefore the devastating effect of potential loopholes between both the supply and the contractual responsibility of various sub-contractors.

Site Works Execution

All project site works are performed under the supervision of De Smet Engineers & Contractors' specialists headed by the Site Manager who is in permanent contact with the project management staff in order to constantly monitor quality and compliance of all on-site sub-contracted work with detailed engineering as well as budget and time schedule.

A particular focus will be made on safety.

Commissioning

Before mechanical completion, the Site Manager and the Commissioning Manager will prepare the commissioning and start-up procedures to support these operations with the help of in-house engineers, Vendor specialists and technology provider.