Fuel switch towards renewable energy
Fuel switch towards renewable energy
The next pillar in our strategy for the Energy transition is the switch from fossil fuels to low carbon renewable energy.
Electrification is key for this transition, enabling the supply of energy through renewable sources and to use energy in a more efficient way. The lower temperature (<150°C) of the agro and bio based processes positions them not only as good candidates for heat recovery and energy efficiency, but also makes them very good candidates for electrification.
DSEC's strategy for the Energy transition has therefore a special focus on the electrification of the processes to consume less fossil fuel energy by privileging technical solutions such as mechanical vapour recompression and heat pumps. Those efficient solutions are economically very attractive in the energy context and are receiving more and more attention.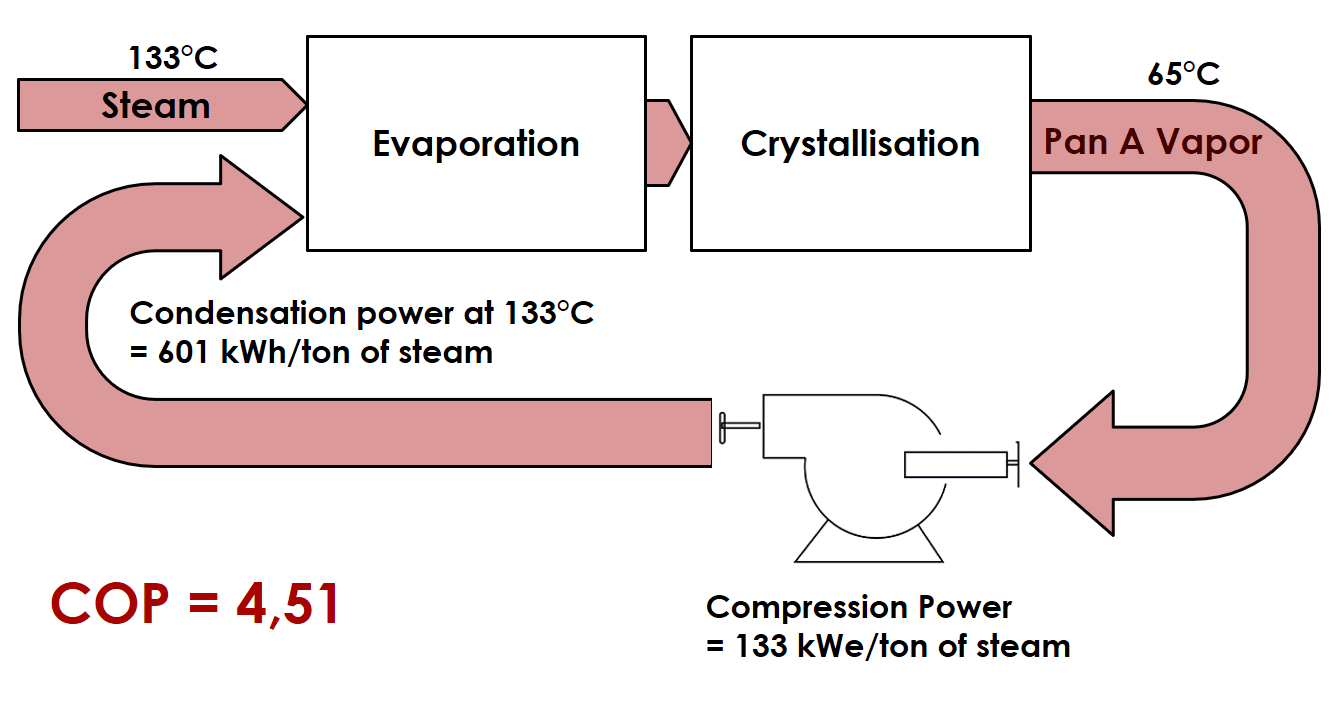 Figure 2 (Schellen & Couplet 2022):
Example from the Evaporation and Crystallisation units of the Sugar process. Instead of condensing waste streams at 65°C at the outlet of the Crystallisation, the vapor can be recompressed to 133°C by Mechanical recompression. This provides a thermal energy benefit corresponding to 4,51 times the compression work and reduces significantly steam flows.
The electricity can be supplied by the grid and/or by a cogeneration or gas engines, increasing the electrical vs thermal energy ratio of the plant.
Low carbon energy can be produced on site with biomass boilers (possibly using biogas from on-site methanization) or by the installation of solar panels and on-site wind turbines with however a limited potential.
The plant can be also supplied with low carbon energy from wood, hydrogen or renewable energy power through the grid.
DSEC provides a complete review of the plant electrical and thermal needs, electrifying where suitable and including energy sources for thermal and electrical requirement by switching from fossil fuel to low carbon sources.
For more information about electrification and fuel switch, check out our latest article published in Sugar Industry: Significant energy savings in beet sugar industry to reach the decarbonization goals.
DSEC IS ACTIVE IN ENERGY EFFICIENCY AND SUSTAINABILITY RELATED PRODUCTION INDUSTRIES
Key projects - Sugar Industries