Energy Efficiency
Energy efficiency is the first pillar of the Energy transition according to our strategy. This starts by acquiring a mind-set of energy sobriety, questioning energy uses and focusing on the essentials, aiming to reduce the overall use of energy.
Today, reasons for energy efficiency are more than obvious: saving money, consuming less limited resources such as fossil fuels and above all contribute to the climate objectives of the Paris Agreement by reducing CO2 emissions.
Agro and Bio based processes are often run at low temperature (<150°C) compared to other processes such as Cement, Steel and Lime production. As an example, Sugar processes are well staggered between 15°C and 150°C and provide perfect opportunities for heat recovery by crossing all the energy fluxes among all the units and by increasing the number of energy levels of the plant.
Energy efficiency goes hand in hand with process optimization and has always been at the core of DSEC's activity. For the past 30+ years, DSEC has acquired a deep theoretical and operational know how in agro and bio based processes, with a special focus on Sugar and Ethanol industries. For these processes, DSEC's Process team uses a detailed modelling tool developed in-house to deliver the most efficient energy plant set-up.
In addition to Sugar and Ethanol modelling, DSEC has extensive knowledge of units operations and therefore applies energy efficiency measures across all its business lines, not just for the Sugar and Ethanol BU but also for Veg Oils and derivatives, Bio-Based industries, Alt Proteins & Ingredients and Agro Nutrients.
Those new energy set-ups recover all possible process and utility heat and can contemplate the addition and redesign of existing heat exchangers and heat recovery on specific units such as Drying, Evaporation or from exothermic reactions. Such new energy set-ups might increase the complexity of the plant and require therefore proper change management. DSEC puts extra emphasis on involving all stakeholders in the projects, involving plant operators and top management.
Energy is no longer available in abundance at any time. Energy has to be consumed in an optimized and rational way; energy becomes an integral part of the process. This is a new paradigm for Industry and DSEC is there to support you in this energy transition.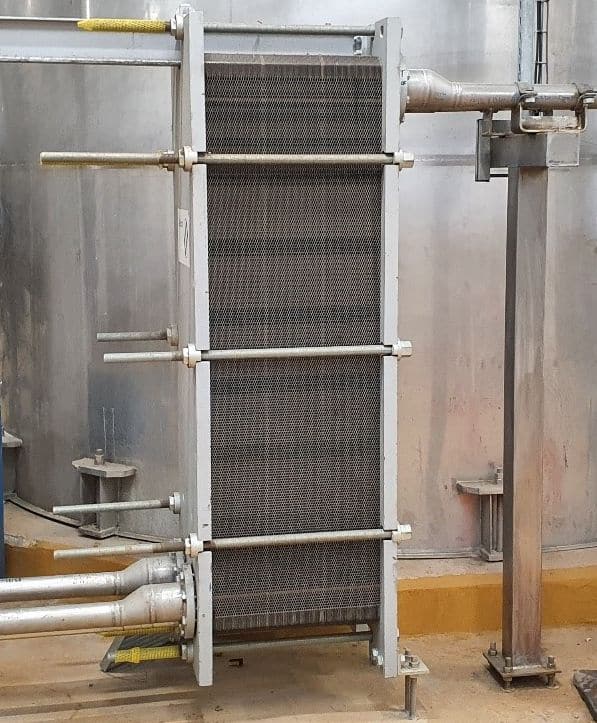 Figure 1:
The heat exchanger is a key equipment of the Energy transition. Simulating heat exchanges surfaces and optimizing temperature pinches enables to select optimum and economical solutions that are paid back over very short periods with the current energy prices.
DSEC IS ACTIVE IN ENERGY EFFICIENCY AND SUSTAINABILITY RELATED PRODUCTION INDUSTRIES
Key projects - Sugar Industries